By Gregor Sullivan
Portable solar cells used to be something exclusive, something you could only see in the movies. Not any more. The super convenient Brunton CIGS solar cells (code name Solaris 26) are now available for everyone who needs them at a very affordable price. In this review, we will go through the most important features – pointing out both the advantages and disadvantages of the Brunton 26 Watt foldable solar panel . We will talk about its efficiency, portability, possible complaints, the impact on the environment and where to purchase this 26w CIGS panel to get the best possible price.
Portability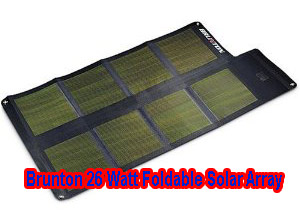 Usually when we think of solar cells, we tend to picture them as massive, relatively heavy panels, mounted either on roofs or in large arrays within the so called, solar cell fields. Brunton 26 Watt CIGS Solar Cells are totally different. They are foldable and portable, as if coming from the future (you can find other more affordable solar charging kits on the market, but Brunton is somewhat entirely on its own). You can put them anywhere you like – even on the ground – as they do not require any special mounting. The technology that enables the existence of such ultra portable panels is relatively new: CIGS stands for Copper Indium Gallium di-Selenite – a semiconductor which you need not know anything about, but whose benefits you can start to enjoy instantly. In fact, there are many predicts that this technology – the CIGS solar cells will become the major solar industry by year 2020.
Unlike silicon wafers (poly-crystalline, mono-crystalline and amorphous solar panels), which are solid and inflexible, CIGS solar cells are very compact and slender, since they are based on thin film technology. More than 99 percent of the light is actually being absorbed within the first few microns from the surface, and that's why they can be so slim. When folded, Brunton weighs merely 28 ounces (0.8 kg). Its multi-section design is responsible for its size – just 11 inches by 8.5 inches, with thickness of 1 inch only. A CD case measures 5.6 in x 5 in, provided here just as a reference to compare the product with. When fully unfolded they measure 21.5 by 37.5 in.
Who Needs Them and What Can Be Charged?
For example, if you are wilderness explorer, camper, nature photographer, or if you need a portable power source, you will definitely like the Brunton 26 power cells. They are perfect for charging laptops, lithium ion batteries for your digital cameras, mp3 players, camping and navigation electronics and satellite phones. They are ideal for camping trips, or prolonged walks in nature. This solar charger can even charge a laptop (provided that it is a low consumption laptop, like EEE PC, for example) in trickle mode.
Efficiency
At the moment of all thin film solar cell technologies, CIGS have largest efficiency. Brunton 26 is very efficient as it can pick up the slightest sun ray, and function even when the sky is overcast. For such compact design, 26 watts of power is an impressive result. You can even connect up to 3 Brunton 26-Wat modules in case you need more power. Don't forget that these CIGS Solaris 26 solar cells are still less efficient than any crystalline silicon based cells (up to 24.7% efficiency levels), but they are still the most efficient (10-15 percent efficiency) amongst the other thin film technologies. And, of course, the Si based cells cannot be produced in such thin design or superior shapes and sizes.
Durability
CIGS solar cell panels show much better heat resistance than solar panels based on silicon. They are sturdy and very resistant. These are great benefits, as you would like to use your Brunton 26w solar panel for decades without any problem.
What Will You Get?
Apart from the storage sack and user's manual, you will get your Solaris 26 foldable solar panel, together with some wiring – a vehicle outlet cable, battery clamp cable and multi-linking cable. The panel is equipped with an inbuilt blocking diode designed to prevents any reverse battery discharge when there is no sun.
Environmental Issues
The environmental advantage of this type of solar cell technology is that it uses much less Cadmium content in the process of production. The other technologies, such as cadmium telluride solar cells method of production uses a lot of cadmium, which is extremely toxic and environmentally harmful atom. CIGS solar cells, such is this Brunton 26w solar panel, use cadmium sulfide in very tiny layers near the surface (window area), but in some designs zinc is being used instead. If nothing else, you should sleep better, knowing that you are not contribution to the environment pollution with this panel.
Disadvantages
One of the most obvious disadvantage is the fact that the prices of CIGS solar cells are still substantially larger that the polycrystalline silicon or cadmium telluride panels. It means that, for the price of this Brunton module, you could purchase solar panels with much higher power, albeit not so compact, thin and flexible.
Some users have complained that they have trouble connecting their devices to the panel. You should be aware, especially if you are new to solar panels, that some electronic devices require special adapters, they you would have to purchase in addition.
What People Who Bought This Panel Are Saying?
These are some of the impressions of the people who use Brunton
I like this panel a lot.
There are no problems with tear and weather. I am delighted.
Even if the temperature fell as low as 25 F, the battery charger operated just fine.
Sturdy, long-lasting, portable, powerful and efficient. Highly recommended.
Where can I buy Brunton Solaris 26 Watt and how much should I pay?
You can buy this Solar Kit from Amazon. Currently they offer free shipping and when compared to other merchants, Amazon.com have the best deal. Click here to view this kit on Amazon and to check their really affordable price.
Useful Contacts
You will get one Year Warranty from the manufacturer. You can contact their Customer Service, Technical Support and ask any question at
1-800-443-4871 (or) via email at support@brunton.com
http://store.bruntonoutdoor.com/portable-power/panels-and-chargers/
About the Author
Gregor is a nature lover and environmentalist.
Disclaimer:
The above guest post is published based on the premise that it will be helpful and informative. The opinions made within it are those of the author and not of sunnyray.org. The links you may find within this post do not necessarily imply our recommendation or endorsement of the views expressed within them.